Chaska Concrete Paver Sealing, Cleaning
Clean 'N Seal is your experienced Chaska concrete paver sealing and cleaning company, offering full service solutions for all of your concrete paver needs. We can repair and replace concrete pavers in your driveway or patio before cleaning or sealing.
Concrete Paver Cleaning, Sealing Of Chaska Driveways
Clean 'N Seal provides the best equipment, material and experience to clean and seal the concrete paver driveway of your Chaska house. Normal wear and tear on concrete pavers used in driveways require occasional repair and replacing. Cleaning, and then sealing, the pavers extends their life and ensures a long-lasting "like new" appearance.
Concrete Paver Cleaning, Sealing Of Chaska Patios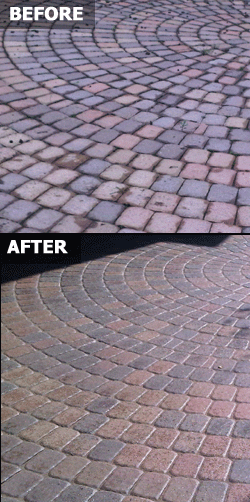 You spend quite a bit of time on the concrete paver patio of your Chaska house, so why not make sure it will last longer and look new with a cleaning and sealing?
Clean 'N Seal repairs and replaces broken and chipped concrete pavers in your Chaska patio before cleaning and then sealing them. This ensures your concrete paver patio returns to its like-new appearance and extends its life.
Why Clean, Seal Concrete Pavers At Your Chaska House?
Cleaning and sealing your concrete pavers extends the life of your patio and driveway by protecting the pavers from natural elements and reducing wear. Regular cleaning and sealing of concrete pavers at your Chaska house also improves their appearance, returning them to looking like new.
Free Estimates For Chaska Concrete Paver Cleaning, Sealing
We offer free concrete paver cleaning and sealing estimates or quotes for your Chaska home. A quote from Clean 'N Seal is detailed and tailored to your home's specific needs. Call 952-393-9588.
Commercial Steam Power Washer Services For Chaska
Clean 'N Seal offers commercial pressure washer services with detail-oriented professionalism. Our commercial steam power washing service is ideal for parking lots and garages, shopping malls and restaurant patios in Chaska.
Our steam pressure washers fully clean concrete surfaces and pavers, removing grime, dirt, road salt and other accumulated stains from your parking garage or mall. We reclaim the water used during steam cleaning to allow our power washers to work while your business remains open and accessible.